I've been wanting to restart this series, and while I start writing up 4-5 starting points for some other hoods, here's a re-post from the old blog.
For my purposes, I'm counting Uptown as a sort of odd shape that goes up Clark and Broadway to Lawrence (I consider North of this intersection on Broadway to be Edgewater, and North of it on Clark to be Andersonville), starting at Irving Park, bordered to the West by North Center and Ravenswood, to the South by Wrigleyville/Lakeview.
What I'm going to do with this list is just regularly update it (as I discover more spots I love, OR, more spots I forgot to include the first time I posted).
Rayan's – reliable liquor stores at Clark/Wilson and Ashland/Montrose (is this east North Center or West Uptown?), owned by members of the same family or by the same family, I forget at the moment. One of these stores is where I often stop to pick up some limited releases from Revolution and Firestone-Walker, limited releases that come in cool boxed bottles. This is sort of that second tier of store where there's plenty of stuff for the average drinker, but impressive finds for those who in a rush, or when something's out at Bottles & Cans or In Fine Spirits, etc.
Demera Ethiopian – my favorite Ethiopian spot in Chicago. Barring someone telling me there's a hole in the wall still open with better food, this place nails it. Quality ingredients, a few wines and beers that work well with the food, and a nice environment. Staff is solid, and there's a lot of smiling and laughing here always. I highly recommend their beets, the red and yellow lentil dishes, and the Doro Wat with Dry Creek Chenin Blanc (a pairing they recommend as well). Their Kitfo, a classic ethiopian version of tartar heavy on herbed butter and chile powder, is a must-have.
Tweet Let's Eat -I'm not huge on brunch as a restaurant concept, but I will be honest and say that Chicago does it better than most cities, especially once you venture away from downtown and river north. Affordable, well-thought dishes with some creativity and solid execution aren't rare at northside brunch spots. Tweet's philosophy " is to prepare and serve, with love, the freshest, hormone-free, antibiotic-free, organic when possible: eggs, dairy, vegetables and fruit, subject to market availability. Pastured pork and beef also subject to availability." That resonates with me (I think some of my other favorite northside brunch spots work under the same umbrella).  You know what also resonates for me? Hollandaise needs execution, and Tweet's stands out.
The Bar on Buena – whiskey and whisky, a craft beer menu curated by people I know and love, silly events, solid food. If you live IN Uptown, you should be a regular here already. If you're visiting Uptown, you should stop here. The beer list balances classics and imports with national and local craft brands, a pretty cozy room. The food meanders down the bar food path with a BoB (as staff and regulars call it) twist, and the outdoor seating takes advantage of a Buena being a quieter street.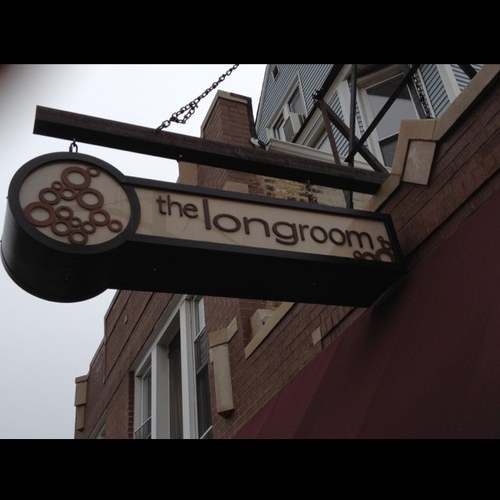 The Long Room – a classic chicago bar with a craft beer focus. Rumors have been swirling about some renovations coming up, or maybe they're done, though on my last visit in May, I was too hazy and too overwhelmed with pals to notice. The bar lives up to its name, with a long bar and single row of two-tops behind it, which opens in the front to the windows and some space, and in the back to a section with tables and booths. These folks always surprise me; there's always a beer on their list I've not had or never even heard of, or just recently heard whispered about in the dark corners of bars. I've had many firsts here, and I once turned down a date with someone because they didn't like this place and preferred a different bar in the immediate area.
Nha Hang Viet Nam – the pho is on point with Tank's (which I haven't been to in awhile), and the rest of the food is top-notch, interesting, and made with love. More notes on this place to come because we're going back soon. BYOB.